Found these two articles on the Net. Chemotherapy is just another colossal con-job! The statistics itself speak. The following are excerpts:
****************************************************
Improving Health of Cancer Patients - July 16, 2010
Richard Loyd, Ph.D.
It is my opinion that in general, cancer is not a medical emergency that requires immediate invasive and toxic interventions. It is a degenerative condition that requires improving of health. There are medical emergencies that require the best medical help you can find. Car accidents with catastrophic injuries or life-threatening burns are examples. In those cases, you need the best emergency room you can find. Cancer can become a medical emergency. If the digestive tract is completely blocked by a tumor so that passage of material is impossible, emergency surgery may be needed. If breathing is becoming impossible due to a tumor blocking the respiratory tract, emergency intervention is appropriate. If a tumor in the brain has grown to the point where there is pressure that is causing damage, surgery may be advisable. It also possible that medical treatment for cancer will cause enough damage that more medical treatment will be required. But in general, cancer is not a condition that requires treatments that actually worsen health.
Many people are trying to recover from cancer with non-toxic therapies. This is an attainable goal and it is often achieved. Patients often spend a lot more money than necessary and take huge numbers of pills, many of which do not have a direct bearing on their problem and may even block progress. More may not be better!
People sometimes tell me that they were perfectly healthy until the cancer suddenly appeared. I point out that they were not really healthy. They had viral infections, toxic metals, parasites, infections in tooth sockets, radiation stress, bowel toxicity, chemical toxicity and probably mold toxicity. There may have been a metabolic imbalance. In other words, the things that cause cancer. The things that have to go away so they can get well.
Anyone with a condition that normally requires the services of a physician is urged to consult one. Ask your physician if this program can be used along side whatever medical treatment you decide on. This is not a "cure" for cancer. It is a method of becoming healthy. If you are considering chemotherapy or radiation, ask your oncologist if the suggested therapy ever cures your kind of cancer. If the answer is "no", then THINK ABOUT THIS!
Of those who depend on chemotherapy for survival (in other words, the surgeon "did not get it all"), the five year survival rate is only 2.1%. For some cancers the rate is better, but for some types of cancer, it is 0%.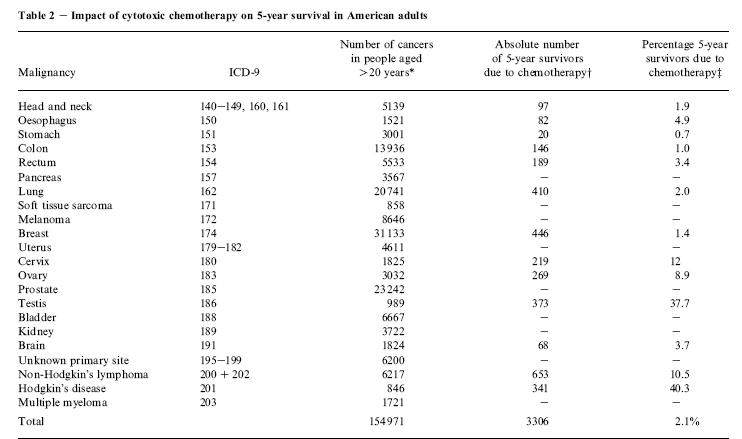 Does this make you feel like chemotherapy is a cruel fraud in most cases? If you do not get that impression yet, please study the chart some more!
****************************************************
How Much Is Life Worth: Cetuximab, Non–Small Cell Lung Cancer, and the $440 Billion Question
By
Tito Fojo, Christine Grady
Affiliations of authors:
Medical Oncology Branch, Center for Cancer Research, National Cancer Institute (TF), and Department of Bioethics, The Clinical Center (CG), National Institutes of Health, Bethesda, MD .
Correspondence to:
Tito Fojo, MD, PhD, Medical Oncology Branch, Center for Cancer Research, National Cancer Institute, National Institutes of Health, Bldg 10, Rm 12 N226, 9000 Rockville Pike, Bethesda, MD 20892 (e-mail: tfojo@helix.nih.gov ).
See
"Notes" following "References."
DOI:
10.1093/jnci/djp177 Published by Oxford University Press 2009.
The spiraling cost of cancer care, in particular the cost of cancer therapeutics that achieve only marginal benefits, is under increasing scrutiny. Although health-care professionals avoid putting a value on a life, our limited resources require that society address what counts as a benefit, the extent to which cost should factor in deliberations, and who should be involved in these decisions. Professional societies, such as the American Society of Clinical Oncology, government agencies, including the Food and Drug Administration, and insurance companies should be involved. However, no segment of society is better qualified to address these issues than the oncology community. Oncologists must offer clear guidance for the conduct of research, interpretation of results, and prescription of chemotherapies. We review recent drug approvals and clinical trials and comment on their relevance to the issue of the spiraling cost of oncology therapeutics. We suggest some standards that would serve as a starting point for addressing these issues.
The year 2008 was one with few major breakthroughs in cancer treatment. A highlight of the war on cancer at the annual meeting in 2008 of the American Society of Clinical Oncology (ASCO) was the reporting of the results of a multi-institutional European trial in which cetuximab was added to cisplatin and vinorelbine to treat patients with non–small cell lung cancer (NSCLC). The overall survival (OS) advantage from adding cetuximab was 1.2 months (hazard ratio [HR] = 0.871, P = .04). This extra time was accompanied by a substantially higher rate of febrile neutropenia in those receiving cetuximab, along with higher frequencies of acne-like rash, diarrhea, and infusion-related reactions. Unfortunately, there were no systematic quality-of-life assessments reported to objectively determine the tolerability of the agent compared with conventional treatment.
Did the results of this trial constitute a breakthrough? According to the researchers, "Cetuximab added to a platinum-based chemotherapy sets a new standard for the first-line treatment of patients with non–small cell lung cancer". And the ASCO press briefing asserted, "these findings are likely to have a significant impact on the care of patients with these types of cancer". But the only reasonable conclusion is that a magic anticancer bullet aimed at an important target missed by a wide margin. Nevertheless, the presentation raised once again an even more pressing and important set of issues: What counts as a benefit in cancer treatment? How much should cost factor into deliberations? Who should decide? As oncologists, we cannot go on without answering these questions. The moral character of our specialty depends on the answers.
Drug (brand name)

Regimen

Cost per milligram or cost per tablet

Cetuximab (Erbitux)

Loading: 400 mg/m

2

; maintain: 250 mg/m

2

/wk

Loading: 600 mg; maintain: 375 mg

6975 mg

$11.52/mg

$80 352

1.2 months

Bevacizumab (Avastin)

10 mg/kg every 14 d

600 mg every 14 d

13 200 mg

$6.88/mg

$90 816

Erlotinib (Tarceva)

150 mg daily

150 mg/d; 1 tablet per day

112 tablets

$140.64 per tablet

$15752

10 days

Sorafenib (Nexavar)

400 mg twice a day

800 mg/d; 4 tablets per day

692 tablets

$49.67 per tablet

$34373

2.7 months
* Costs from Red Book 2008 (Drug Topics Red Book) by Harold Cohen. PFS = progression-free survival. OS = Overall Survival
† Calculated for a 60 kg/1.5 m 2 patient.
‡ For the regimen cited, administered as in the study cited, until the time of median disease progression as reported in the published study.
§ Not statistically significant.
Read more
here
****************************************************
You be the judge...ask an oncologist to undergo chemo when has cancer.